Data logging, control and real-time data acquisition for Ethernet and Internet
The versatile Microlink 851 features digital inputs and outputs, frequency counting, event counting and an extensive range of analogue measurements including voltage, temperature, strain, pressure, current, flow, level and pH - although extra modules may be needed for some types of sensor. In all 48 channels are available on each Microlink. Two alarm thresholds may be set on all input channels, and digital channels switched on alarms.
The Microlinks use TCP/IP protocol so can communicate with a PC over existing Ethernet and Internet networks. As many Microlinks as needed may be connected: the only limit is the number of addresses on the network.
Features | Digital Inputs and Outputs | Counting | Range and Resolution | Measuring Temperature | Measuring Strain and Pressure | Measuring Current | Measuring pH | Signal Connections | Software | Ethernet, Internet and TCP/IP | Specifications | Download Leaflet
Stand-alone data logging or real-time data acquisition and control over Ethernet or Internet
Analogue voltage measurement; can also measure strain, temperature, pressure, pH, current, flow, level, humidity, speed, etc - although an extra unit is needed for some sensors.
Choose from six thermocouple types with automatic linearisation to Celsius or the units of your choice
Choose from six strain gauge bridge configurations and see results in microstrain
Rebalance all strain gauges in one go
Read and switch digital inputs and outputs
Event counting
Frequency measurement
Includes the powerful yet easy-to-use Windmill 7 Software for Windows: no programming required
Choice of four analogue input ranges, selected with Windmill software individually for each channel
Alternatively, choose automatic ranging and let the software match the input signal as closely as possible
Integrating analogue-to-digital converter reduces electrical noise
Use Windmill software to select the resolution of the A-D converter (from 12- to 18-bits): choose high throughput or high resolution with optimum noise rejection
Automatic recalibration
All data displayed and saved in the engineering units of your choice: volts, millivolts, Celcius, fahrenheit, microstrain, hertz, kilohertz, etc
Scan all channels up to 10 times a second
Two alarm thresholds on each channel
Free technical support for life
Money-back guarantee if not completely satisfied
---
The 851 provides 32 digital I/O lines, arranged in four groups of 8. Use Windmill software to choose whether each group is an input or an output. You can read or set the state of each line individually, or switch several lines at the same time.
---
The 851 has eight counters which you can use for counting events or measuring frequency.
When counting events, you can use the counters in two modes: accumulating count and resetting count. In accumulating count the counter keeps going until you reset it from software. In resetting count the counter shows the number of pulses since the last reading.
When measuring frequency you can count over 1 or 10 second intervals.
You can scale counts using Windmill software. For example if the pulses came from a flow meter which produced one pulse for every 50 millilitres, a scale factor of 0.05 would give a reading in litres.
The counters are found on 8 of the digital input and output lines. You can use any of these you don't need for counting as normal digital inputs: the counts are always maintained even if you don't plan to use them.
---
An integrating A-D converter reduces noise. You can use the Windmill software to select the resolution of the converter from 12- to 18-bit: choose a fast sampling rate or greater precision with maximum noise reduction.
The resolution of the A-D converter is the number of steps into which the input range is divided. If you choose 18-bit resolution, for instance, the converter divides the range into 218, or 262144, values. In this case a ±10 V range will be resolved to around 0.076 mV, and a ±0.1 V range will be resolved to around 0.00076 mV. Although the resolution increases when you narrow the range, there is no point in trying to resolve signals below the noise level of the system: all you will get is unstable readings.
The range refers to the maximum and minimum voltage that will be digitised by the A-D converter. The 851's inputs are bipolar, covering a range of -10 V to +10 V for example. You can choose from four input ranges on the Microlink 851. It's best to choose the smallest range that encompasses your signal, as this optimises the resolution.
---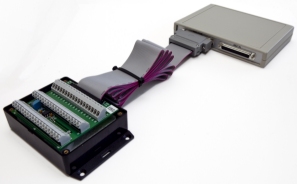 Depending on your transducers, you might need extra hardware units to make your connections. For example, for thermocouples you will need a 593 Isothermal box which provides cold junction measurement. (When monitoring thermocouples it is essential that the system knows the temperature of one of the thermocouple junctions. Housing this junction in the 593 isothermal box keeps the temperature constant, and a cold junction sensor in the box tells the system the temperature. You connect the thermocouple wires to screw terminals in the 593 isothermal box, and connect the terminals to the 851 unit with a ribbon cable. The 593 also detects broken thermocouple leads for you.)
---
For strain add a 594 unit. This lets you monitor strain gauge bridges and balanced bridges such as pressure transducers. You can configure individual channels to accept any of these inputs:
voltage
quarter bridge: single strain gauge
half bridge: tensile + compressive strain gauge
half bridge: normal + transverse strain gauge
full bridge: 2 tensile + 2 compressive gauges
full bridge: 2 normal + 2 transverse gauges
full bridge: tensile normal + compressive normal + tensile transverse + compressive transverse gauge
---
For current add a 590- 8A to your shopping cart. This has many extra facilities, including:
contact closure inputs
higher voltage inputs than normal
input protection from high voltages
external current source switching
output protection
---
For pH add a pH-box to your shopping cart. This lets you monitor 12 pH electrodes
---
The slim 851 offers pin connections for your signals. However, if you prefer to use screw-terminals these are provided by adding one of the 59x Series of units. For analogue voltages, digital I/O and counters, choose the 590 unit. This allows many extra facilities, such as:
contact closure inputs
higher voltage inputs than normal
input protection from high voltages
external current source switching
output protection
For current, thermocouples, strain gauges and presssure transducers - choose the Microlink 590- 8A, 593, and 594 respectively.
---
The 851 is supplied with Windmill data acquisition and control software. This modular suite of software regularly collects data from the 851, charts it, shows alarms, lets you control outputs and can transfer data in real-time to other applications like Excel. You can also add process mimic generators, sequence control and other options. Should you wish to program the 851 yourself, you can use the IML Tools to do so.

Windmill Graphics: Process Mimic Generator Software
---
The Microlink uses TCP/IP protocol so can communicate with a PC over existing Ethernet and Internet networks. As with all distributed systems, placing data acquisition hardware close to sensors reduces cabling costs and errors produced by noise. Ethernet offers a good, low-cost, option for distributed measurement and control. You may add data acquisition devices to existing Ethernet systems: saving installation costs and time. Speed-wise it is faster than serial communications.
---

Dimensions (mm)           180 x 120 x 40
Maximum logging speed     10 scans a second
Memory                    65000 scans
SOFTWARE
  Operating system          Windows 8, 7 64- and 32-bit
                            Vista, XP, 2000 or 98
ANALOGUE INPUTS
  Maximum # inputs          16 differential
  Maximum safe input voltage:
  Power supply on           ±48 V
  Power supply off          ±33 V
  Transient                 ±300 V
  Amplifier:
  Ranges (V)                ±0.01, ±0.1, ±1, ±10
  Common mode range         ±13 V
  Relative accuracy of ranges:
   gain = 1000               ±0.1%
   gain = 1, 10, 100         ±0.05%
  Analogue to Digital Converter:
  Maximum linearity error   ±0.02%
  Resolution    Integration Time    Samples/Second
  12 bits         2.5 msec          80
  13 bits         5 msec            64
  14 bits        10 msec            48
  15 bits        20 msec            32
  16 bits        40 msec            16
  18 bits       160 msec             6
DIGITAL INPUTS/OUTPUTS
  Maximum # inputs          32
  Maximum # outputs         32
  (selected through Windmill in ports of 8 lines)
  Power-up state            all inputs
  Compatibility             TTL and 5 V CMOS, can be made 
                            contact closure compatible
  Range                     0 to 5 V
  Output capability         15 LSTLL loads
  Maximum I/O speed         160 channels per second
COUNTERS
  Maximum # counters        8
  Resolution                23 bits
  Maximum count (events)    1000000
  Maximum frequency         5 kHz
  Minimum pulse width        500 µseconds
  Frequency gate times      1 or 10 seconds
  Compatibility             TTL, 5 V CMOS, can be made
                            contact closure compatible
  Input voltage range       0 to 5 V

---
---
---