Log data from utility meters and send the consumption readings to a central PC running Windows, with Biodata's new Microlink 840 data logger. Monitor demand in real-time and identify patterns of use of electricity, gas, water and so on.
---
Save data as text, xml, EnergyLens files and to a MySQL database
All results presented in engineering units of your choice (kilowatt-hours, cubic meters, etc)
Two alarms can be set on a combination of channels
Switch digital channels on alarm: eg sounding buzzers or flashing lights
Notify alarms to a remote PC over Ethernet or Internet
Count to over 16 million
Record total usage and usage over your chosen set intervals, for example each hour's and each day's demand
Each 840 Utility Meter Logger can monitor 8 meters
See consumption in real-time
All data is time-stamped
Log the counts from the volt-free contacts of your utility meters
Can also monitor other parameters such as temperature and current.
Data files can be read by Excel, Energy Lens, and other software
Free technical support for life
---
Software
The modular Windmill software suite offers data logging, alarm indication and sends data directly to other applications like Excel. You can also add process mimic generators to create your own data displays involving live moving bars, analogue meters, colour coded alarms, control buttons, changing icons and time and date labels.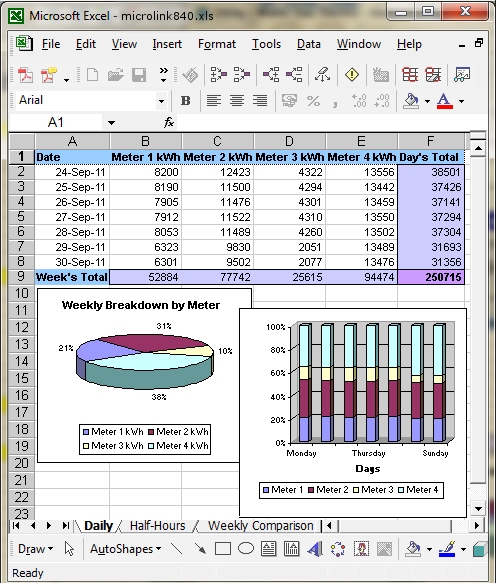 Data can be passed to other software such as spreadsheets, databases and energy management software.
---
Alarm on count, analogue level and on-off state
Set two alarms on a combination of channels
Switch a digital output on alarm, sounding a buzzer or turning on a light for example
Notify alarms to a remote PC over Ethenet or Internet
Insert a delay before an alarm is triggered, helping prevent false alarms
---
The Microlink 840 costs just 295 pounds and is available on-line through Windmill Software's data acquisition shop. You can also buy direct from us - e-mail [email protected] or telephone +44 (0)161 834 6688. Whether bought from Windmill or ourselves we provide free technical support for life. If you would like to discuss your utility meter monitoring application please get in touch: e-mail [email protected] or telephone +44 (0)161 834 6688.