The Microlink 826 logs data from utility meters - sending the consumption readings to a central PC running Windows. It lets you monitor demand in real-time and identify patterns of use of electricity, gas, water, etc.
Features
See consumption in real-time
Records total usage and usage over your chosen set intervals, for example each minute's or hour's demand
Chart data and show tables of recent readings
Reports can be automatically generated in the Windows application of your choice, Energy Lens or Excel for example
Alarm indication on all readings - set thresholds above or below which alarms are triggered and logged
Process mimic software available for you to create your own data displays - involving bar charts, analogue meters, colour coded alarms, control buttons, etc
Each Microlink 826 Logger can monitor 8 utility meters
Up to 29 Microlink 826s can be connected to your computer's COM port, monitoring up to 240 utility meters (For utility meter monitoring over Ethernet or Internet see the Microlink 840 data logger.)
The software can monitor several COM ports
PC can be up to 1 km away from the utility meters
Option for the Microlink 826 to communicate over a modem, so you can retrieve readings remotely
Each Microlink 826 is housed in a dual-gang electricity socket box for easy installation
Data is stored both locally by the battery-backed Microlink 826 Logger and remotely on the PC, ensuring no loss of information
All data time-stamped
Modular, buy only what you need now and expand later if necessary
Works with any meter emitting contact closure pulses: electricity, gas, water, etc
Conditioning can be added to monitor other signals such as logic and high voltage pulses
Systems can be customised to your specifications
Add temperature, pressure, voltage, current, flow, etc monitoring
Software runs under Windows - it's easy to use and involves no programming
Free technical support for life
Low cost, package starts at £345 including software, lead, adaptor and power supply
---
Ordering and Prices
To order a Microlink 826 system, or to discuss your requirements, please contact us at Biodata Ltd, 10 Stocks Street, Manchester, M8 8QG, UK, Tel: +44 (0)161 834 6688, Fax: +44 (0)161 833 2190, E-mail: sales@microlink.co.uk
Systems start at £395. This includes one Microlink 826 logger, a power supply, an RS232-RS485 adaptor, an RS232 lead and the Windmill data acquisition and control software suite for real-time logging, charting and alarm indication. Additional Microlink loggers cost £195. Significant quantity discounts available. We design and build all the Microlink hardware and are happy to customise systems to your specifications. Contact us at the Sales Office, sales@microlink.co.uk, for more details.
---
Specifications
Software
Uses Windmill software running under Windows 95 or later
Minimum PC requirements: 486 processor, 8 MB RAM, VGA Graphics
Logs both total usage and usage per epoch (unit of time)
Reads data at any time
Can pass data in real-time to third-party Windows software like Excel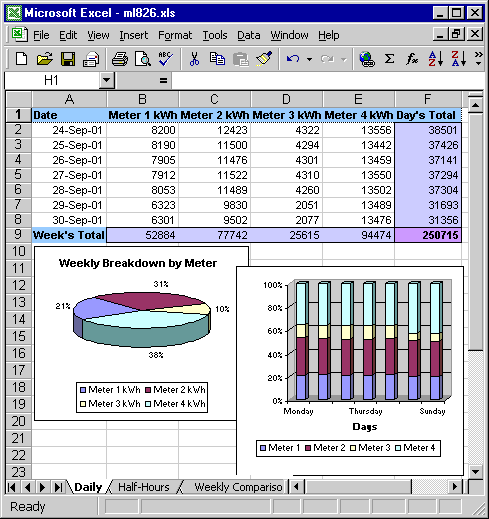 Data can be sent to software like Excel in real-time, for analysis and report generation. Alternatively you can use the Windmill logging, charting and display software.

Hardware
8 Counters per unit monitor contact-closure pulses
Maximum number of Microlinks per COM port = 29
Maximum count = 224 (16 777 216)
External power supply supplied = 9-24 V DC (sufficient for 29 Microlinks)
Microlinks connected to the PC over RS485 cables
Optionally, instead of RS485 connection an RS232 connection lets the Microlinks communicate with a modem
Utility meters connected to the Microlink using telephone cables
Battery backed: can operate without power for over 10 days
Memory size = 256 epochs from each input. For example, if you were logging usage per hour, the memory would hold data from the last 256 hours
User decides on and off time before a count is logged, in 10 millisecond steps




The Microlink 826 board before
it is housed in a dual-gang electricity
socket box. For an enlargement
click the picture.