A company producing china clay needs to analyse the chemical composition of the clay, and determine its properties. As part of this process they use a dilatometer, which is a device familiar to material engineers. In this case the device heats a sample of the core and measures the amount by which it expands.
This is a simple idea but requires careful thought when put into practice. There are commercial dilatometer systems available which function very well. They lack flexibility, however, when it comes to computerised acquisition of data, as well as being expensive.
Measuring Temperature and Displacement
The company have been thinking for several years about controlling their existing dilatometer with a computer. Biodata's Microlink 3000 system offers them distinct technical advantages. It also costs one third the amount of a proprietary system. The system is not straightforward. High accuracy measurement of temperature and displacement are required under difficult circumstances.
The Microlink hardware can condition a displacement transducer with a range of 2 mm, whilst allowing full control of system calibration. This is critical to the success of the system. A high resolution analogue-to-digital converter means all readings are resolved extremely accurately. The A-D converter integrates the signals, so reducing environmental noise. This is important as the heating control for the dilatometer is provided by a Phase Angle Trigger unit, notorious for radiating RF noise.
PID Control of Heating
Control is vital to the application. The combination of Windmill software and the powerful Interface Management Language (running in the Microlink hardware) can handle a wide variety of digital inputs and outputs as well as three-term PID loops for control of the dilatometer heating. There's also potential for using a Windows database for the storage and retrieval of results.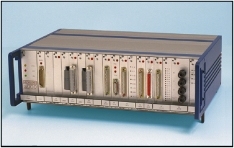 Microlink 3000 Hardware