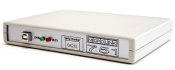 Global carbon dioxide (CO2) concentration has increased by around 40% from the pre-industrial period to today. It is expected to increase by even more by the end of the century. This influences crop yields, and Spanish researchers are investigating the effect of CO2 concentration on wheat. As part of their experiments they are using Windmill software to log temperature and humidity in Greenhouses.
The scientists sowed Durum wheat seeds at an experimental farm in Salamanca. The wheat was covered by six greenhouses. Three greenhouses were kept at today's level of CO2 and three at the elevated level predicted by the end of the century.
It was important to measure, amongst other things, the temperature and humidity of the greenhouses. To do this the team connected HMDSO sensors, from Vaisala, to a 751 data acquisition unit. They plugged the 751 into a computer running Windmill Logger software. Logger took temperature and humidity readings every hour throughout the season. It timestamped the readings and saved them in text files ready for analysis.
The Microlink is extremely quick to install and easy to use. However, should users have any problems Biodata provide free technical support for life.
About Biodata Ltd
Established 1973 in Manchester (UK), Biodata Ltd specialise in PC-based data acquisition and control systems.
---
Further Reading
Does ear C sink strength contribute to overcoming photosynthetic acclimation of wheat plants exposed to elevated CO2? J Exp Bot. 2011 Jul;62(11):3957-69. Epub 2011 Apr 21 http://www.ncbi.nlm.nih.gov/pubmed/21511906
---
More Information
For more information contact us at the address below.