---
There are several Microlink options for strain measurement, from USB units, to distributed systems and our versatile frame based system.
---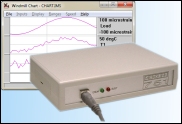 Our Microlink 751 unit is extremely easy to use with no need to open the computer. Simply plug the 751 into your computer's USB port: you don't even need to switch off the computer or restart Windows. With the addition of the 594 unit, it accepts up to 32 strain gauge bridges with full, half or quarter bridge wiring on each channel. Unstrained readings are zeroed out with the bridge balancing facility. Measurement of the excitation voltage allows true ratio-metric readings. The power supply supplies sufficient current to keep all bridge circuits energised and lets you accept normal, tensile, compressive and transverse gauges. The package comes complete with Windmill data acquisition software. Ideal for portable systems. The 751 strain measurement system is currently on special offer from Windmill's on-line shop. Alternatively request a quotation for a Microlink 751 system, please fill out this form.
For higher speed, dynamic strain measurement, we offer the Microlink 770. Also communicating over USB, this unit captures data at up to 100 kHz. You can buy the Microlink 770 on-line from Windmill Software, or fill out this form for a no-obligation quotation.
---
We offer distributed strain measurement over TCP/IP, Ethernet or RS485 networks. For TCP/IP (Ethernet and Intenet) we offer the Microlink 851 with 594 unit. This accepts up to 32 strain gauge bridges with full, half or quarter bridge wiring on each channel. All strain guages can be zeroed simultaneouslyt. For RS485 and Ethernet choose the Microlink 3000 frame based system.
---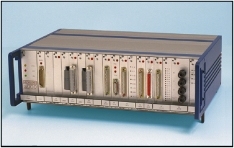 The Microlink 3000 Series comprises a frame holding a number of modules. The 3000 can talk to the computer over GPIB, RS232, RS485 or Ethernet cables. Battery powered frames are available for in-field studies or mobile applications.
The strain gauge module (the Microlink 3052) allows bridge signals from strain gauges to be configured as full, half or quarter bridge arrangements. The sophisticated design of the module and the processing power of the Microlink 3000, allow each bridge to be independently balanced before data collection. Analogue-to-digital converters offering up to 16-bit resolution mean that the smallest strains can be measured precisely. Information such as gauge factor and Poisson's number are specified independently for each strain gauge. All data is stored as Microstrain.
The balance control is valuable because
The initial unstrained bridge output is often much larger than the strain signal to be measured. When not balanced out you need to apply a much larger input range to the signal, which restricts the signal resolution. Units not equipped with balance controls require slow, high resolution, digital voltmeters.
The computer can automatically balance the unstrained bridges.
The computer can remember the balance setting required for all the bridges.
Each strain module can monitor 16 strain gauge bridges. You can set the range of each bridge independently from software, with a choice from 0-1 millivolts to ±10 volts. You can disable the bridge option and instead monitor 16 differential voltage inputs. Strain gauges connected to one module can be sampled 40 000 times per second. Multiple modules are sampled at proportionally lower speeds. You can use Windmill, Streamer or SCAN1000 software with the Microlink 3000, or may program the Microlink yourself.
Application Story: Excavator Company Monitors Strain at High Speeds
The capability of the Microlink 3000 system to collect strain data continuously, at rates of up to 40 000 samples per second, was critical when a UK based excavator company was reviewing the market. The Microlink system also had the advantage of Ethernet communications, which means that the system can be sited up to 185 metres from the controlling PC and still run at the required speed.
To provide a complete solution the entire system was engineered into a vibration-proof housing. Streamer data capture software, in combination with FAMOS analysis software, has led to a big increase in the speed with which test results are generated. Test records are archived, maintaining test data for years to come.
---
To Summarise
For Low Cost using USB

Microlink 751 USB Package
32 Inputs per unit
Up to 8 units per USB hub and up to 200 samples per second

For Low Cost using TCP/IP - Ethernet and Internet

Microlink 851
16 Strain inputs per unit
Up to 10 scans of all channels per second.

For Distributed Systems

Microlink 3000 for Ethernet networks
Microlink 3000 for RS485 networks

For Maximum Speed

Microlink 770 USB Package for 100 000 samples per second
---
Further Reading
Our Systems Catalogue gives details of strain measurement techniques, and more information about our hardware and software options. Fill out our form to send for a free copy.
Article on strain measurement by Windmill Software. Includes strain gauge tutorial and tips for computerised strain measuremnet.
William M. Murray, William R. Miller The Bonded Electrical Resistance Strain Gage (1992). Oxford University Press. Available from Amazon.
---
---